No matter if you are in need of new uniforms, new material, funds to rent a place for practices, hosting a cheerleading fundraising can be one of the best opportunities to get the money that you need.
One of the things that you need to understand about cheerleading fundraising is that there are many ideas that you can use. Some can work better than others, especially if you add some special and unique touches.
So, without further delay, here are the best 8 ideas for cheerleading fundraising:
#1: Dance-a-Thon
One of the best ideas to use on your Dance-a-Thon is to put everyone to move. All you need to do is to organize an all-night dance-a-thon at a local gym or even at your school to raise the money that you need.
You can charge a small entrance fee. Besides, every member of the team should be available to stay for one hour on the dance floor with one sponsor in exchange for his donation.
In case you need a high amount, you can also try to sell some drinks and snacks inside. Make sure that everyone is involved so that the entire can work and have fun during the Dance-a-Thon.
#2: DIY Consignment Shop
We all know that cheerleaders love clothes. Besides, most tend to accumulate a lot of clothing in their wardrobes that they no longer use but are in perfect condition. So, one great idea for your cheerleading fundraising is to set up a DIY used clothing store and sell all the pieces that you can find.
You should also ask your parents and the rest of the family to donate their items as well. After all, the more styles, shapes, and sizes you have for sale, the better.
#3: Fashion Show
Again, cheerleaders tend to love everything that is related to fashion. Besides, they love to perform and to be the center of attention. So, a fashion show is a great idea for your cheerleading fundraising.
You can ask local boutiques to donate the clothes and simply host the show at your schools' gym. If you want to make things better, you can partner with a restaurant and also get part of the revenue as a donation.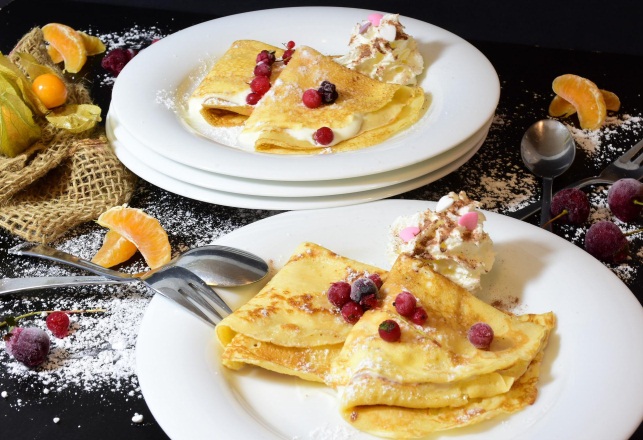 #4: Pancake Breakfast
Everyone loves pancakes and eating them for breakfast seems even a better idea.
So, all you need to do is to get to work and ask your parents for their help too. You will be doing all the pancakes on your own at the school lunchroom, for example, and then you will sell each one you make.
#5: T-Shirt Sales
Hosting a t-shirt sale is always a good idea when you are doing a cheerleading fundraising. After all, t-shirts can be worn by children and adults, men and women. So, you just need to find an online retailer where you can order custom t-shirts to sell during the games.
One of the things that you should do is to incorporate the team name and your colors on the t-shirt.
#6: Backyard Barbecue
Hosting a backyard barbecue is always a great idea, especially during the summer. After all, families can get together, the food is great, and everyone has a lot of fun. So, this is the perfect opportunity to raise the funds that you need for your team.
There are different options with this cheerleading fundraising. You can charge an entrance fee or you can sell a barbecue plat individually. It is up to you to make the math.
#7: Bake Sale
Hosting a bake sale is usually an idea that tends to work well. Besides, it won't cost you almost anything. All baked goods should be prepared by the cheerleaders and their parents and they should be then put up for sale.
Variety counts as well as the location to sell them. While you need to ask permission to the school, you could ask if you could do this bake sale in the entrance way, in your school's quad or in the cafeteria. After all, these tend to be the places with more people which means more sales.
#8: Candy Grams
If your cheerleading fundraising is being organized near Christmas or Valentine's Day, then candy grams are one of the best ideas for your cheerleading fundraising.
The entire team should prepare the small treats which should include chocolate bars, candy canes, and bags of candy. Then, classmates can send to one another with a short message.